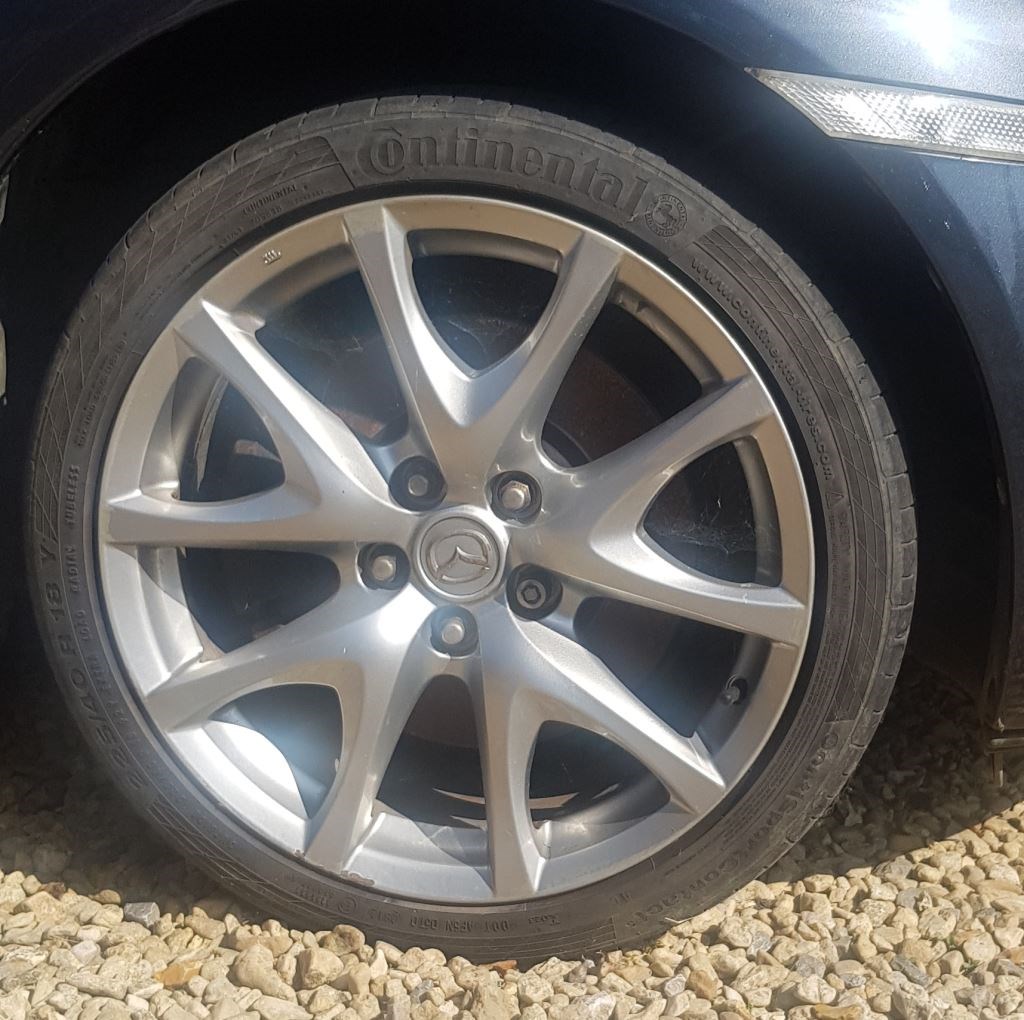 Loving Your Car After Lockdown
We've all been suffering, your car as well, so loving your car after lockdown shouldn't be ignored. As more drivers get back to work, what are the issues they may encounter?
Flat battery - one of the most common causes of breakdowns. Even though the engine may be switched off, your car has still been working hard. Alarms, sensors and more are all working in the background and draw power from you battery. TOP TIP If you haven't been and started your car yet, do it ASAP. If you're not in time to prevent a flat battery, the breakdown services are sure to be busy so don't leave it until the last minute
Brake check - take a look at the wheel in the photograph, you can see the corrosion on the disc. This is nothing to worry about, a little surface rust will soon throw off with gentle driving. Other problems that can occur are sticking brake pads, spongy brake pedals (often due to condensation in the brake fluid) and reduced efficiency due to glazed pads. TOP TIP Drive carefully on a short, safe route first time and If you have any worries about your brakes get them checked by a professional - an AAA Alignment Centre will be able to advise
Tyre wear - hopefully your tyres will not have worn down since the car was parked up - but do you know how legal they were to start with? While you still have time it's an excellent chance to check tread depth and consistency across the whole width of the tread. TOP TIP If you can see the "wear bars" in the grooves, time to get them checked at an AAA Alignment Centre. Take the chance to get the alignment checked at the same time, it may explain those strange wear marks you can see!
Tyre damage - even stood still your tyres are receiving damage from the weight of the car. Check the sidewalls for any cracks or bulges, these are a danger point and any tyre damaged like this MUST be replaced. Catastrophic failure at high speed is a distinct possibility
MOT checks - cars with an MOT due after 30-3-2020 are having the renewal date extended by six months. However, it is still an offence to drive a vehicle in an unsafe condition. TOP TIP don't leave it to chance, there are many workshops opening up. If your car needs MOT testing get it done ASAP and they can carry out an inspection at the same time if requested
Other checks - this can't be a comprehensive list, for more guidance see the Government's advice on https://www.gov.uk/check-vehicle-safe
Please do make sure your car is surviving lockdown, we're all relying on you to Stay Safe on the roads.
Parallel Lines
15th May 2020